PAOK FC in support of Α21
Through PAOK Action, PAOK FC fully supports the non-profit organisation Α21 in its fights against human trafficking around the world.
As a first step, PAOK FC is a proud communication sponsor for the Walk for Freedom, which will take place on Saturday (19.10), the European Union's Day Against Human Trafficking.
To participate in the events you can find all the necessary information and register here.
About the Walk for Freedom
Walk For Freedom is the only public anti human trafficking event to be held simultaneously around the world. Walk For Freedom was initiated by the international non-profit organization A21, which has been fighting against human trafficking since 2018. This event, which is a silent march, is not a protest, but an attempt to bring to light the phenomenon of human trafficking and to represent the millions of victims around the world.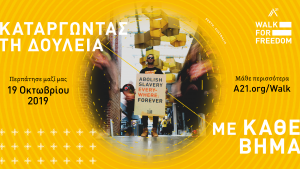 Participants in the rally dress in black and create a single-file line, holding informative signs and march to central points and locations of major cities. On xompleting their march, they proclaim the word "freedom" in the hope that this event will help raise awareness and eventually more action against human trafficking. At the same time, leaflets are distributed to passers-by, and the action is widely publicized through the Internet and social media.
In Greece, the Walk For Freedom first took place in 2018, in Athens, Thessaloniki, Larissa, Drama, Volos, Komotini, and Trikala, as well as for the first time in Nicosia, Cyprus. More than 450 walks worldwide took place in 50 countries on the same day! In Greece in 2018, more than 1,200 people walked for freedom, and 70 million people were informed through social media worldwide. This year, on October 19, 2019, people from all over the world will join the anti-slavery movement once more by informing local communities. In Greece, similar walks will take place this year in Thessaloniki, Athens, Patras, Alexandroupolis, Larissa, Volos, Komotini, Trikala, Karditsa, and Xanthi etc. In Cyprus, there will be walks also in Nicosia and Limassol.